Solutions to improve the performance of leaders, managers, teams and individuals
HR Services and Support Case Study
HR Services and Support Case Study - Nestlé Manager's Toolkit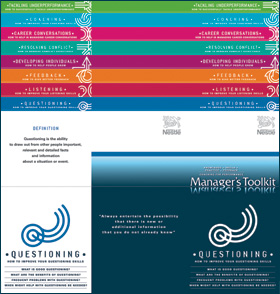 The purpose of the Manager's Toolkit is to help HR Managers, globally within Nestlé, to step up to their role as Business Partners. The Toolkit is an important part of HR's resources aimed at strengthening the skills of managers throughout the company.
We have created the contents and managed the design, printing, production and collation of the Toolkit.
It has been designed to be used by HR managers for 1-on-1 discussions with managers, to support them in doing the people management part of their role. The material is written in "bite-sized" exercises/discussions. Managers hold a key role in bringing out the best performance in people, and this Toolkit is targeted at some of the essential skills in their job: giving feedback, listening and questioning, planning and managing the development of their people, leading career conversations with individuals, and coaching. In each area it includes a series of exercises, questionnaires, subject information and giveaways.
What is in it?
The Manager's Toolkit consists of 11 sections:-
Listening
Questioning
Feedback
Coaching
Developing Individuals
Tackling Underperformance
Resolving Conflict
Career Conversations
Teamwork
Influencing
Mentoring
Each wallet contains one section and each section is colour coded and has a different symbol. There is a CD which covers all 11 sections – so HR managers can print off extra copies of all material.
If you would like to talk to us about how we could help you create a bespoke Tookit to support your HRBPs please get in touch - we look forward to hearing from you.